Designs that Tell a Story
At label White Tree, we believe in crafting Wearable Handmades that are Intricate, Traditional, Earth-loving & Ethical. As the name suggests, White Tree is earthy, deeply rooted in tradition and committed in the purity of its intent to give back to the community and to the planet in far greater degree than it receives.
Born in response to the needs of a changing world, White Tree's ethos is rooted in a 'Back-to-Basics' philosophy that urges us to shift attention back towards the Earth and our own cultural legacy to produce fashion that is functional and no less fabulous. Our designs take a cue from this holistic vision, reflecting natural motifs conveyed through the stunning language of delicate hand-embroidery presented in soothing hues, thus making every garment effortlessly elegant and timeless.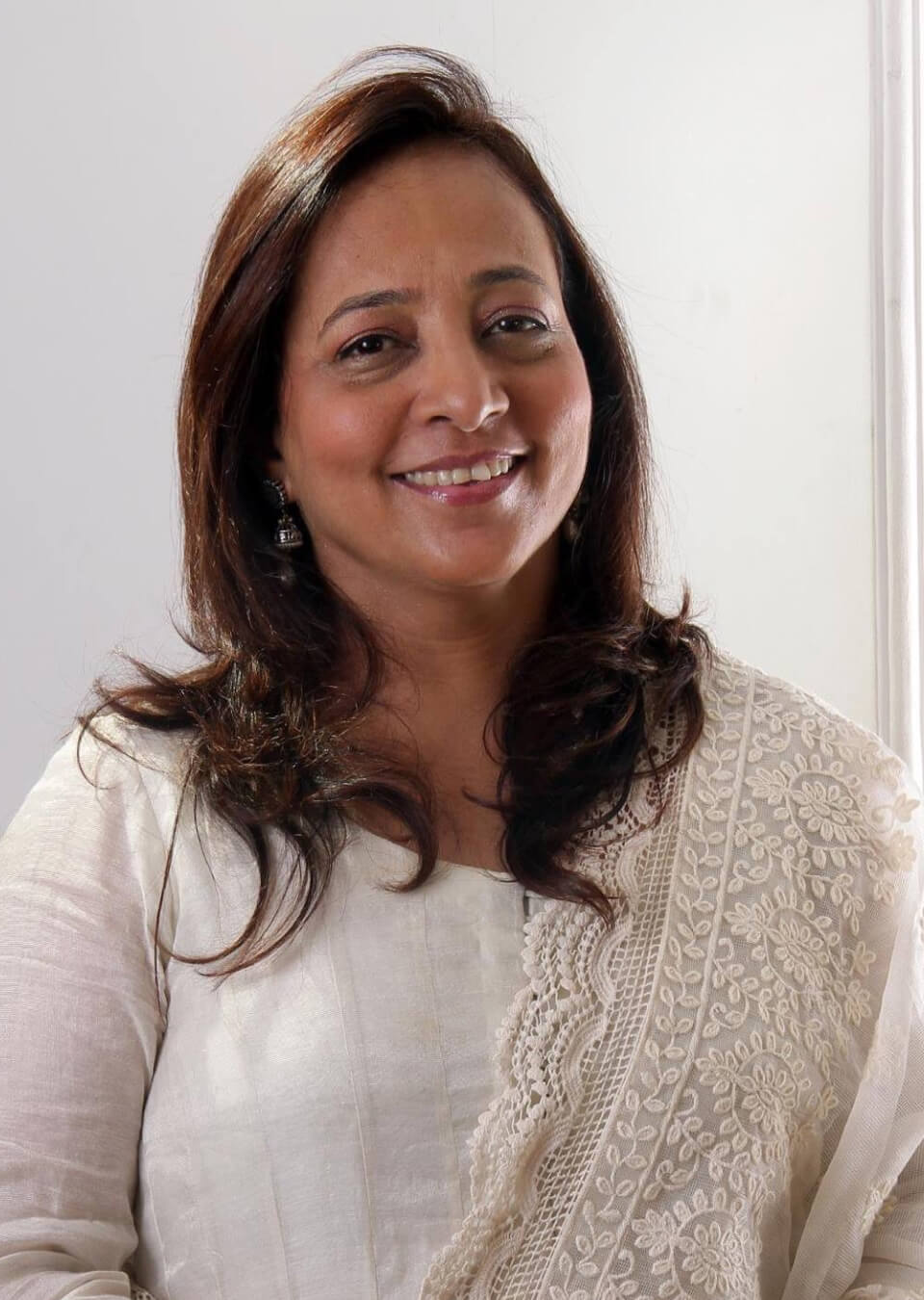 Meet Our Founder
Lamiya Basrai
Our founder, Lamiya Basrai, made her foray into the realm of apparel design with humble beginnings almost three decades ago. Catering to clients in Nagpur with custom-made outfits, her style has come to be synonymous with classic heirloom cuts, signature hand-embroidery, intricate applique work and a subtle yet striking colour palette that's forever easy on the eyes. A firm believer in clothes that reflect character and defy the whims of changing trends; her individualistic approach to design is evident in her creations, each of which is a masterpiece in itself - shining with originality and telling tales of tradition.
The desire to make a shift to purely organic textiles, with the larger purpose of helping sustain local artisan communities, reviving dying skill-based legacies and catering to the urgent need for sustainable clothing; she set up White Tree Designs in 2018.
With decades of experience behind her, the journey thus far with White Tree has brought her hard-earned and well-deserved recognition. From being a small local brand to making her products relevant on a global platform like Etsy, shipping homegrown, handmade products to clients across the world – Ms. Basrai hopes to continue adding value and meaning to her contribution with White Tree.
'I hope to witness even greater impact of White Tree's philosophy and vision, with people increasingly making conscious choices and age-old crafts that are so instrumental to a balanced ecological future, retaining their relevance through recognition and fair remuneration. It is up to small brands like ours, as well as those making buying choices, to change the narrative by being more compassionate makers and consumers, so as to ensure that our children inherit a better planet.'
LAMIYA BASRAI - Founder